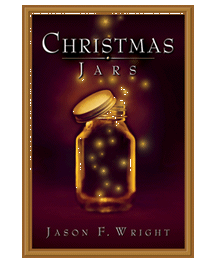 What I have to say!
Christmas Jars by Jason F. Wright is a novel that speaks through the realm of fiction to that of reality. Wright develops a beautiful story interweaving the lives of three families throughout the span of twenty-five years. This "family connection"- a girl and a jar full; of change will surely inspire you to start your own "Christmas Jar."
A newlywed couple, short on money, decides to start a "Christmas Jar," saving loose change that at Christmas will be used to purchase gifts. Twenty five years later a mid-twenties woman working her way up in the news reporter world has a terrible year. Broken and lost she stumbles over a "Christmas Jar" on her front doorstep. Determined to find out who the secret giver is and longing for her own front page story she tracks down the family behind this tradition that has turned into so much more than even they imagined.
There are twists to this story that will drop your jaw and make you wonder how you can impact others lives. News stories of Starbucks' customers paying for the next customer's drink, the movie pay it forward, and Christmas Jar's website full of stories proves that humanity does care.
http://www.christmasjars.com
At the Christmas Jars website you can read and post real life Christmas Jar miracles. You can also read reviews; author, event, and contact information. I highly reccoment reading "Cameron's story" the current real life story that is being featured. If that does not bring you to tears, I don't know what will.